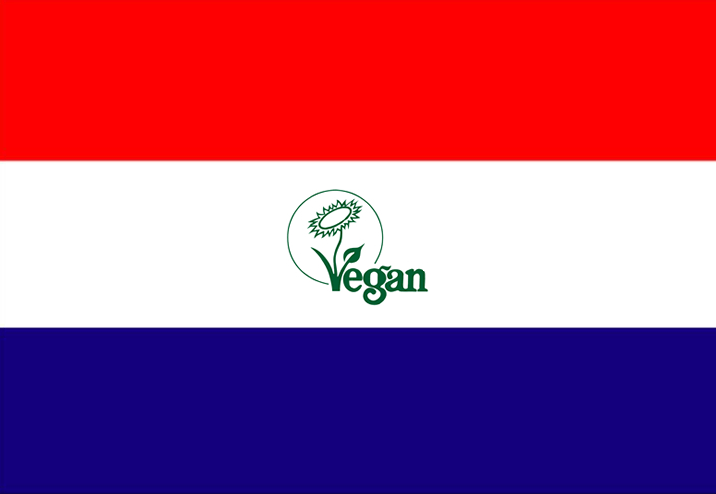 In international vegan groups, I regularly see people asking about being vegan in the Netherlands. Since the internet apparently has no English guide to veganism in Holland, I decided to make one. I'm a born and bred Dutch woman, so I may not have the best perspective on problems foreign vegans face in this country, but I figure something is better than nothing.
This guide covers important Dutch terms and phrases, shopping for groceries and cosmetics at supermarkets, health food stores and online, finding food while travelling, and ways to meet other vegans. I'll try to keep it updated as new options become available (this happens all the time!). If you have any tips or questions, I'd love to hear from you!
Handy terms and phrases
Most Dutch people speak English reasonably well, so you should be okay asking questions in shops and restaurants. They might not know what 'vegan' means, so you'll have to explain in detail what you do and don't eat. I've listed a few Dutch phrases and terms that will help you communicate and read ingredient labels.
I'm vegan - Ik ben veganist
I don't eat meat, eggs or dairy - Ik eet geen vlees, eieren of zuivel
I don't eat animal products - Ik eet geen dierlijke producten
Is that vegan? - Is dat veganistisch?
Milk - Melk
Butter - Boter
Cheese - Kaas
Whey (powder) - Wei(poeder)
Honey - Honing
Egg, eggs - Ei, eieren
Egg white - Eiwit
Protein - Eiwit (yes, the word for both egg white and protein is 'eiwit'. Keep an eye on the specifics like soja-eiwit (soy protein) and kippeneiwit (chicken eggwhite))
Chicken - Kip
Fish - Vis
Cattle/beef - Rund
Pig - Varken
Vegetable(s) - Groente
Meat analogue - Vleesvervanger
Plant-based - Plantaardig
Organic - Biologisch
Vegetarian - Vegetarisch (most products marked as 'vegetarisch' contain milk and/or eggs)
Vegan - Veganist (person) / Veganistisch (food)
Vegan stores
There is a growing number of veggie/vegan grocery stores in the Netherlands. The biggest are Vegabond in Amsterdam and Veggie4U in Den Haag. These stores stock all your vegan essentials and luxury products such as cheese and meat substitutes, chocolate, coffee creamer, ice cream, sauces and energy bars. If you are not near one of these stores, look at Happycow to find your local options for vegan specialty products, or check out the online order section at the bottom of the page.
Supermarkets
If you know what to look for, you'll find that most Dutch supermarkets are relatively well stocked with vegan products, although they are often not labelled as such. If worst comes to worst you can always survive on fruit, vegetables, beans and grains, but unless you are in a very rural area you'll have plenty of other options.
Volunteers from the Dutch vegan society maintain a wiki with a list of vegan products that can be found in supermarkets and health food stores. The list is definitely not complete, but it will help you find (accidentally) vegan versions of most common products. I also have my own vegan product review website and these shortlists of vegan supermarket convenience foods and 'junk food'.
Dairy alternatives
Almost every Dutch supermarket carries house brand and Alpro plant milks (flavors and unsweetened) and soy yogurt (even at Aldi!). Most milks can be found in the shelf stable dairy section, while the yogurts and some 'fresh' milks are in the fridge with the perishable dairy. All Alpro products, including their margarine and meat analogues are vegan. Multiple brands offer vegan mayonnaise (such as Hellman's and Remia Mayolijn) that are available in many supermarkets. Becel makes several margerines that are labeled vegan.
Meat analogues
Beware that many meat analogues contain eggs and/or milk. Thankfully, the vegan ones are often labeled 'vegan' or '100% plantaardig'. Vegafit and Sofine are completely vegan brands. For Vivera all the packages with the word 'plant' are vegan. Plain tofu and tempeh are also sold at many supermarkets and Asian stores. You can find a wider assortment of veggie burgers, sausages and vegan cheese at health food stores.
Bread and spreads
Bread is a Dutch staple food. Most people eat simple sandwiches for lunch and/or breakfast and sometimes even for dinner. Finding vegan bread can be a bit of a hassle, since the ingredients aren't always on the label and breads can contain e-numbers that may be of animal origin. However, many stores such as Albert Heijn, Dirk, Deen, Deka, Aldi and Lidl ensure that the e-numbers in their bread are plant-based. Check the vegan wiki for detailed information on vegan bread.
As for spreads, every store has a huge selection of peanut butters and jams. Lotus Speculoos (biscoff) spread is also vegan. Most supermarkets have hummus and some other tapenade type of spreads (check to make sure they're vegan!). If you want a very Dutch experience get some margarine (or peanut butter) and a box of chocolate sprinkles (many of the dark varieties are vegan) and make yourself an authentic 'boterham met hagelslag' (sandwich with chocolate sprinkles).
Another typical Dutch food that is usually vegan is 'ontbijtkoek' (translates as 'breakfast cake') a type of soft dark brown gingerbread. Every supermarket carries a huge variety of these and most are vegan (watch out that they have no honey/honing). They come in large loaves and individually wrapped snack size slices. They can be eaten plain or spread with margarine.
Albert Heijn
The most omnipresent supermarket chain in the Netherlands is Albert Heijn, easy to recognize from the big blue AH sign above the entrance to their stores. It is rapidly becoming more vegan-friendly. Some of their store brand products carry a dark green V vegan label (there is also a light green vegetarian label, some of the vegetarian labeled products are actually vegan, but not all). They stock the Vegafit brand (black packaging), which is completely vegan and delicious. The larger stores also carry a big selection of vegan dairy alternatives, hummus and other spreads, energy bars like Clif and Trek, Ben & Jerry's ice cream and a few vegan cheeses and meal salads. Their pre-baked pizza crusts with tomato sauce are also vegan.
Jumbo
Another vegan-friendly Dutch supermarket chain is Jumbo. They carry a large range of plant-based dairy and many of their store brand meat analogues are labeled vegan. They also stock Sofine and Vegetarische Slager (vegetarian butcher) meats. The latter are not all vegan. Vegan meat alternatives are usually labeled as such. Most of Jumbo's Goudeerlijk bread is vegan. Many Jumbo supermarkets now stock a variety of vegan cheeses and dressings by Violife, Bedda and Follow Your Heart.
Health food stores
Most largish towns will have at least one and often multiple health food stores (Dutch: natuurwinkel). Some are independent businesses, but many are part of chains like Ekoplaza, Estafette and De Natuurwinkel. Their vegan-friendliness varies, but most can supply you with nutritional yeast (edelgist), tvp (sojabrokken), vegan cheese and bulk bags of nuts, seeds, legumes and grains. We have Holland & Barret stores which are very convenient for things like nutritional yeast and supplements, but they do not have a fridge with vegan products like they have in the UK.
Health food stores are also the easiest place to find cruelty free vegan cosmetics, toiletries and cleaning products. Look for brands like Lavera, Urtekram, Weleda, Yes to, Dr. Organic and Sodasan. Many of these products have the vegan sunflower label.
Ordering online
Although more and more vegan specialty products are available in supermarkets and health food stores, you may want to order some groceries online, especially if you are in a rural area away from any big cities.
Veggie4U and Vegan Mission cover all your vegan foodie needs, from cheese and sausages to coffee creamer and candy bars.
Do you like to make your own seitan? De Zuidmolen and De Hoop Klarenbeek miller's webshops are good sources of vital wheat gluten ('tarwegluten' in Dutch). While you're at it order some bulk baking supplies, nuts and dried fruit too.
Vega-Life stocks vegan shoes, bags, toys, candy, nutritional supplements, toiletries, dog and cat food. They also have a small IRL shop in the center of Amsterdam.
There are many places where you can buy vegan cosmetics, but Lush and ELF make it easy.
Saving money on groceries
Tokos (ethnic grocery stores)
If you are on a budget, the ethnic grocery store ('toko' in Dutch) is your friend. There are different types of tokos, Turkish, Eastern European, Middle Eastern, Chinese, Indonesian, Japanese and combinations of these and they all stock different products. Generally though, they'll have fruit, veg, legumes, nuts, seeds, spices and sauces from their respective regional cuisines in more variety and for lower prices than the supermarkets. The Asian shops often stock cheap tvp, tofu, tempeh and seitan (mock duck).
Markets
The Netherlands do not have true 'farmer's markets' where farmers offer their own produce, but most towns have open air produce markets where you can find a wide variety of fruit, vegetables and nuts, often at much lower prices than in regular stores. The open air markets are usually held in specific streets or squares once or twice a week, but some are there every day. Google 'markt + placename' to find markets near you. Beware that they usually also have cheese, meat and fish stalls, so not all parts of the market are equally pleasing to a vegan's eyes or nose!
On the road
Finding vegan food 'on the road' can be a bit of a hassle, especially in rural areas. Your best bet is to bring your own. I usually carry some snacks like dried fruit, nuts or a granola bar. If I'm going to be away for longer I'll also pack some sandwiches or Clif bars.
If you do find yourself stranded without food, a supermarket is your best bet. Depending on my mood, I might get some bananas or grapes, bread rolls, hummus, energy bars, trail mix, aforementioned 'ontbijtkoek', cookies, crackers or crisps. If you are crazy like me, you might want to carry a spork in your purse to eat soy yogurt and avocado in the park.
At train stations
Train stations are relatively good places to find vegan food. Depending on the size of the station, you may have several options to choose from. Some stations have a shawarma take-away that can make you a nice falafel stuffed pita with salad (hold the feta and garlic sauce) or a small AH To Go supermarket where they sell meal salads, hummus-falafel wraps or at the very least some fruit and crackers. The Kiosk shops stock vegan hummus sandwiches and wraps, bags of crisps, fruit and some cookies and candy if you know what to look for. At Starbucks you can get vegan milk in your drinks and they often have a few vegan food options. In a couple stations there are Julia pasta take away, where the whole wheat (volkoren) penne with tomato sauce is vegan if you order it without cheese. At the Smullers snackbar you can get French fries, vegan mayo (ask specifically, their regular mayo has eggs), ketchup, satay sauce and a Dutch specialty called 'bamihap' which consist of a breaded and fried disc of spiced noodles and soy crumbles. Dutch snackbars almost always fry in vegetable oil, making fries a 'safe' food for vegans.
Amsterdam Central Station even has a small health food store in the middle tunnel. Here you can find vegan candies and cookies (Billy's Farm e.a.), toiletries (Lavera) and a small selection of staples like nutritional yeast, protein powder, dried fruit, superfoods, grains and legumes. On the left side of the store there is a shelf with sweet and savory pastries. The coconut-macaroon (kokosmakroon), wakame rolls and samosas are vegan. Beware that the seitan and tempeh rolls contain butter (roomboter).
On the highway
At most gas stations you'll find little more than fresh fruit and potato chips (the naturel variety is usually vegan). If you're lucky they may have hummus wraps or sandwiches. In the north part of the country there are a few vegan friendly highway restaurants by the Hajé chain. Here you'll find several vegan options, including the delicious Dutch weedburger.
Eating out
The menu in traditional Dutch restaurants usually consists of large pieces of meat or fish served with some vegetables and potatoes. The vegetarian option is often cheese- or egg-based. As a vegan, you'll get stuck with some side dishes and a green salad. Many restaurants are willing or even excited to accommodate vegans if you let them know a couple of days in advance, but if you just show up and ask for a vegan meal, you may get disappointed.
For spontaneous eating out, if there is no vegan or vegetarian restaurant available in the vicinity (check HappyCow or the Dutch VegaMap), I like to pick an Italian restaurant and ask for a vegetable pizza without cheese. This is one of the easiest ways to get a vegan meal, since crust is usually vegan and there is not much else to worry about. If they have a traditional stone oven, cheeseless pizzas often turn out quite delicious. I ask them to put on some extra fresh basil or arugula (rucola in Dutch) and won't feel that anything is 'missing'.
Indian food is another favorite, but check that your dish does not contain dairy. Ask specifically about paneer/cheese, ghee/butter and cream. The same goes for Ethiopian cuisine. Many of their delicious lentil and veggie stews are vegan, but make sure they are not cooked in butter and do not contain cheese.
Chinese, Indonesian, Suriname and Thai restaurants are also good places to find vegan food. They hardly use any dairy, so the vegetarian dishes are often vegan as long as they don't contain eggs. However, beware that these restaurants often have a loose definition of 'vegetarian', so check that no meat broth, shrimp paste (trassi) or fish sauce is used in your dish.
Fast food chains
Fast food options are getting better all the time. The Dutch branch of Subway offers two vegan patties, their regular veggie patty and the 'Vegan Supreme' quinoa chickpea patty which tastes like falafel. Most of their bread is vegan and they have vegan aioli garlic sauce. Domino's, New York Pizza and Papa John's all have vegan pizza's with vegan cheese. Burger King has a Veggie King burger that is vegan if you ask them to leave off the BK sauce (can be substituted with ketchup). Their fries, curly fries, onion rings, apple pie stick and delight salad are also vegan. Dutch McDonalds does not currently have a vegan burger option, but their falafel salad, fries and apple pie are vegan. Cigköftem is also a nice cheap option for vegan take away. Their main product (cigköfte/ cold bulgur nuggets) is vegan, but beware of their hot meatballs, which may contain real meat (but can also be vegan). I also like ordering vegetarian roti without the egg. In big cities you will find a lot of roti places.
Sandwich places
Dutch sandwich places are often not very vegan friendly. Hummus and other plant-based toppings are still a bit of a rarity. If your luck is bad, you can get stuck with a sad veggie sandwich that holds only a few leaves of lettuce and a slice of tomato (hold the butter!). The Bagels & Beans chain that can be found in many cities and towns is a happy exception. Get yourself a wonderful soy latte, a hummus bagel or vegan burger and a piece of pecan pie.
Meeting other vegans
Being vegan in the Netherlands can be a lonely business, but it doesn't have to be! In every major city there are vegan potlucks and other events where you can meet fellow vegans. Dutch vegans are mostly organised on Facebook, so that's a good place to start. This particular Facebook group was created specifically to help non-Dutch vegans find their way.